Rajiv Gandhi University of Health Sciences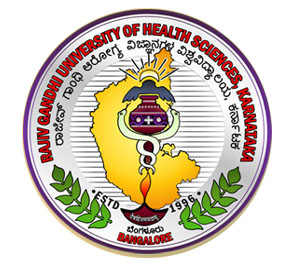 Rajiv Gandhi University of Health Sciences, Karnataka a premier Health Science University in India was established on 1st June 1996 at Bangalore by the Govt. of Karnataka through its enactment of Rajiv Gandhi University of Health Sciences, Karnataka Act 1994 to encompass all the existing health science colleges and institutions which were earlier affiliated to the conventional universities in Karnataka with a purpose of ensuring proper and systematic instruction, teaching, training and research in modern and Indians systems of medicine.
The phenomenal increase in the number of institutions and students admitted to various courses of medical and allied health sciences warranted the need to regulate, monitor and standardize the curricula as well as the evaluation systems. The product of medical and health science professional education was to meet the societal needs for better healthcare. Hence, RGUHS had the vision to bring in uniformity in the standards of teaching and have a common curriculum for the various courses offered in different colleges across Karnataka. The medium of instruction is only English.
RGUHS is considered one of the top universities offering the best medical education in India with initiatives to make its syllabi for different courses of world class quality taking it to the forefront of Medical education in India.
Based on the ever-changing scenario and also on the needs of the society it has been restructuring its programs and also starting new ones so that quality healthcare reaches the nooks and corners of the country.
---