KAMIL – E – TIB – WA – JARAHAT
B.U.M.S (BACHELOR OF UNANI MEDICINE AND SURGERY)
BUMS (Bachelor of Unani Medicine and Surgery) is an undergraduate degree programme in the field of Unani medicine and surgery. This degree covers the medical knowledge of the Unani system. To pursue and owe this degree is quite enough to become a doctor (Hakim) in the Unani medical field.
Total Intake: 60 Students.
DURATIONS
Bachelor of Unani Medicine & Surgery (BUMS) is one of the popular degrees in the field of Unani medicine. It is the U.G degree which is almost sufficient to get the job. This degree is awarded after the completion of 5 ½ years academic programme containing the 4 ½ year academic session and 1 year internship as per CCIM Norms.
ELIGIBILITY
The basic requirement for the eligibility to get the admission to B.U.M.S programme is qualifying the 10+2 examination with 50% marks in P.C.B. The candidate must have the physics, chemistry and biology in 12th class with NEET eligibility.
The candidate must have obtained a minimum of not less than 50% aggregate marks in Physics, Chemistry and Biology in general and 40% for SC, ST, Cat-1, 2A, 2B, 3A and 3B Category candidates of Karnataka with NEET eligibility.
CAREERS & JOBS
The career opportunity after the completion of BUMS is not only in India but also in abroad. Many organizations and research institutions are working in the manufacturing and research field in abroad are requiring the professional in this field.
The candidate having the BUMS (Bachelor of Unani Medicine and Surgery) degree is eligible to be called as a Hakeem (Doctor) and eligible to do the private practice. A Unani practitioner may look the career as a medical representative or as a doctor in private or government hospital.
The professionals in this field can work in companies those deal with the Unani preparations. He/she may get the job in Unani colleges as a professor or the researcher. A large number of people are not satisfied with the allopathic treatment. This gives the birth to the alternative treatment.
Programmes Offered
B.U.M.S (Bachelor of Unani Medicine and Surgery)
KAMIL – E – TIB – WA – JARAHAT
(4 ½ YEARS + ONE YEAR INTERSHIP) as per CCIM Norms
Details Status of Recognize Course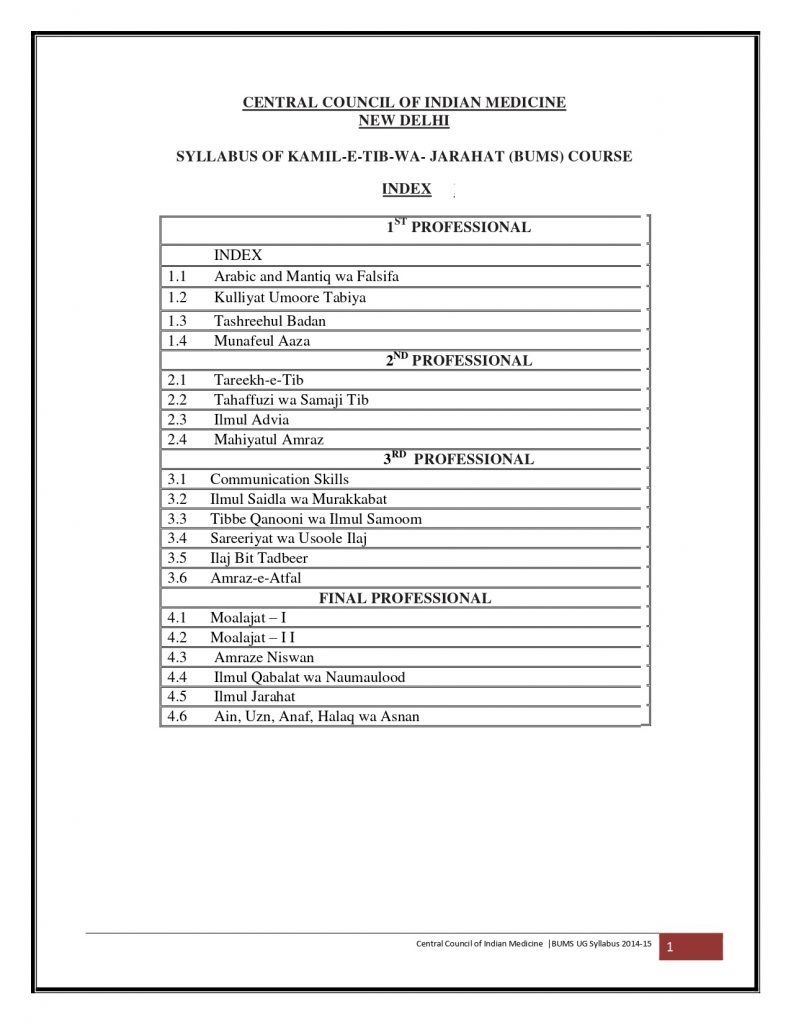 | Class | Duration |
| --- | --- |
| BUMS FIRST YEAR | 1 YEAR |
| BUMS SECOND YEAR | 1 YEAR |
| BUMS THIRD YEAR | 1 YEAR |
| BUMS FOURTH YEAR | 1 & 1/2 YEAR |
| INTERNSHIP | 1 YEAR |
New pattern for BUMS with effects from batch 2021-22
| BUMS Programme | Duration |
| --- | --- |
| First Professional BUMS | 18 Months (1 1/2 Years) |
| Second Professional BUMS | 18 Months (1 1/2 Years) |
| Third Professional BUMS | 18 Months (1 1/2 Years) |
| Compulsory rotatory internship | 12 Months (1 Year) |
1